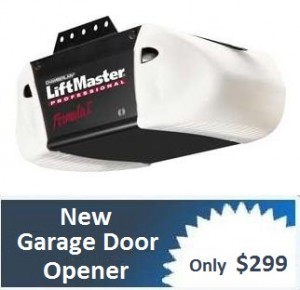 Garage Door Opener – At Cedar Rapids Garage Door Repair we have every repair and installation service available to you for garage door openers. If you need a new garage door opener installed, need us to fix the current one that you have, or even program new remotes or keypads we can handle it all. Our technicians come prepared to deal with the most common jobs to the most unusual ones. While being in business for many years we have seen it all.
We have garage door openers to fit any garage door, no matter the make or model. Whether you have a shorter garage or a tall one we can find the best garage door opener for you. With a few different choices to choose from we can guarantee to have the one you need. There are 3 different types to choose from, first being a chain drive, belt drive and lastly a screw drive.
Depending on the type of door you have and if your garage is attached to the house, each garage door opener has its benefits. The chain drive is reliable and very common while not being too expensive. The screw drive is great for wide and heavy doors and makes minimal noise. Lastly the belt drive is almost virtually quit and the most recommended. It comes with more features than the other two types to give you the best experience.
Cedar Rapids Garage Door Repair technicians specialize in residential and commercial garage door openers. We can provide preventative services to keep your garage opener running for as long as possible.
Our technicians are always prepared with fully stocked trucks to service you right away. If you need a repair or would like to upgrade the garage door opener you have now, please do not hesitate to give us a call here at Cedar Rapids Garage Door Repair.